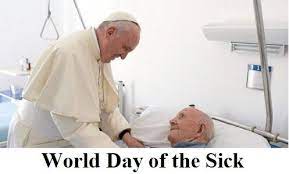 World Day of the Sick 2022: Every year on February 11 World Day of the Sick is celebrated, and was established by Pope John Paul II, as a way for followers to pray fervently for all those struggling from illnesses.
Pope Francis in his message for this year, entitled "Be merciful, even as your Father is merciful" (Lk 6:36). Standing beside those who suffer on a path of charity
"Jesus' invitation to be merciful like the Father – writes the Pope – has particular significance for healthcare workers. I think of all those physicians, nurses, laboratory technicians, the support staff and the caretakers of the sick, as well as the numerous volunteers who donate their precious time to assist those who suffer". People who have made their service a mission. Because Your hands, which touch the suffering flesh of Christ, can be a sign of the merciful hands of the Father".
A special Mass for all the sick will be celebrated in St Tiernan's Crossmolina on Friday 11th February at 12 Noon.